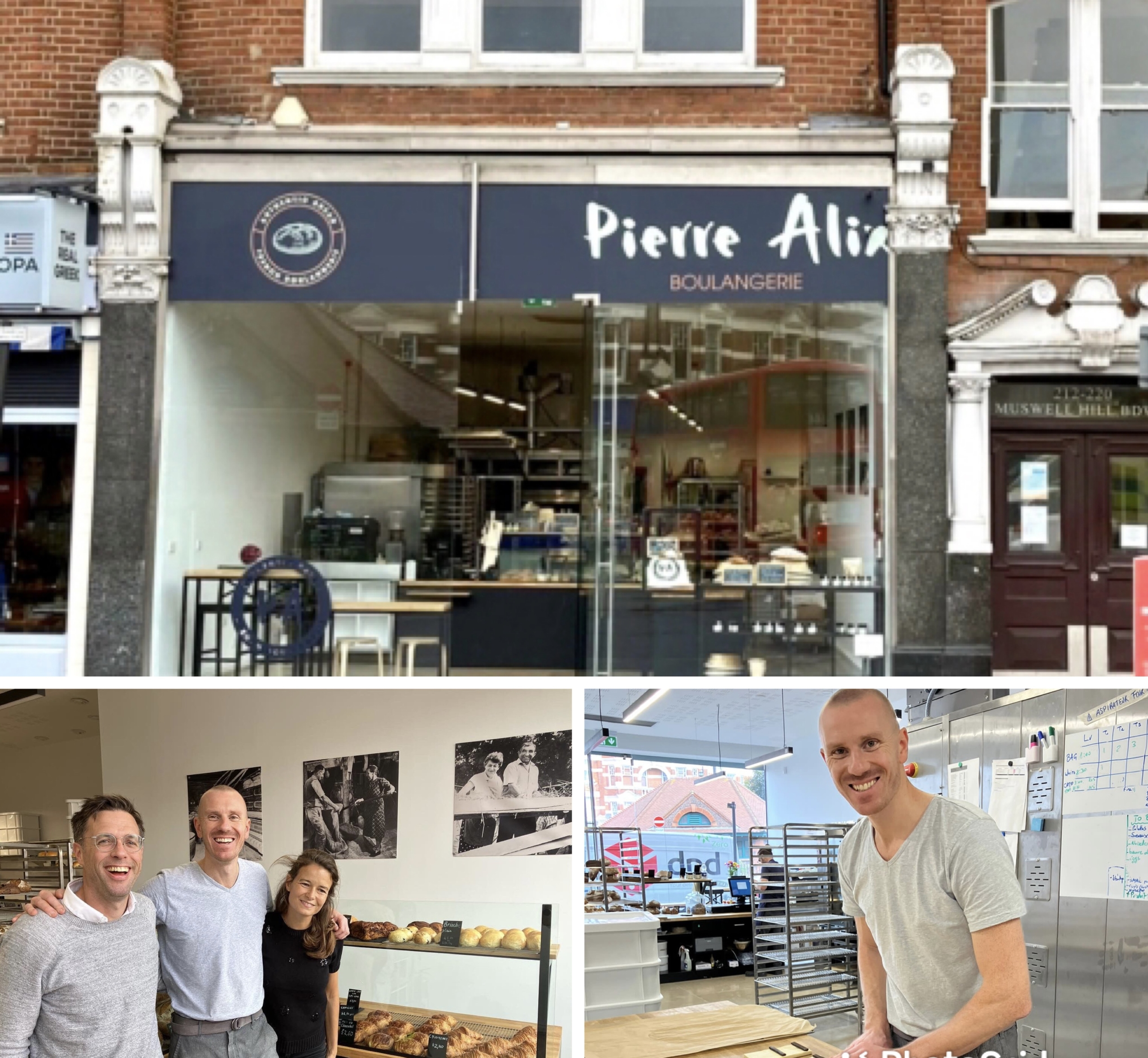 Pierre and Florence tell us more about the bakery they opened last July in Muswell Hill.
Tell us about yourself and what you did before opening your Bakery?
We are Pierre and Florence, married with two 8 year old daughters. I am from Normandy and Florence from the South-West of France, but we lived in Nantes before arriving in London. We've both had quite a few different careers already.
We met when Florence was still playing tennis, the year she won a medal at the Paralympic Games in Beijing (2008). She lived in Montreal and I was in Paris. When she ended her tennis career, Florence returned to Paris where she worked as a strategic project manager for the Adecco group then for Audencia. Today, in addition to being a baker, she is also an author and lecturer, and the Vice-President of the French Tennis Federation.
For my part, I was development Advisor at the Hauts-de-Seine Tennis League (French Tennis Federation) then Business Developer in IT consulting companies (Ausy then GFI). We left Paris after the birth of our daughters, but after a few years in Nantes, Florence had itchy feet again and I wanted a new professional project. That's how the idea of the bakery was born, just chatting in front of the TV.
What makes your project unique?
It's not just a bakery, it's our philosophy: the idea that at any time, you can decide to follow your dreams, to embark on an adventure, that you have to jump into the unknown, even if it's hard or scary. That's what we wanted to pass on to our daughters.
I am a natural sourdough baker, that is to say that like our ancestors, I do not put yeast at all in my bread, and my flours are organic. Everything is produced on site, in small quantities adapted to the demand of my customers to limit waste and overconsumption. We sell a high quality product to offer our community better food whilst having less of an impact on the environment.
We are the only ones in this area to produce such high quality bread on site whereas our competitors tend to produce large quantities in dedicated factories. With us, customers can see their bread being made from start to finish because we have nothing to hide from them and because we like to hear what they have to say.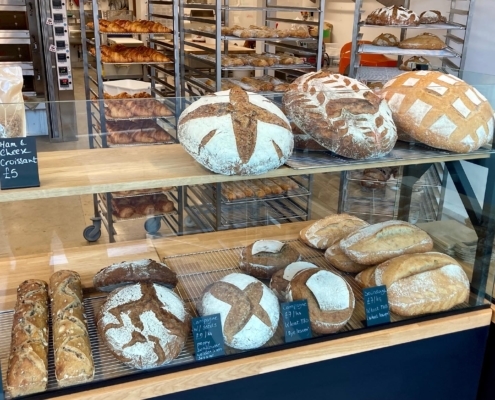 How did you go about opening a bakery in London in 2022? How did you prepare for this project?
The project started at the end of 2018 and the bakery's first official customer was on the 22nd of July 2022. In other words, we took our time to think carefully about what we were getting into: why, how, with whom, what risks we were going to take, how far we were willing to go, what our strengths and weaknesses were. We had a good period of introspection.
Then when we were sure, Pierre thought about the best possible training and he chose the International Bakery School in "Noyers sur Jabron" in the South-East because it is the only course on organic sourdough today in France. He left for 15 weeks from January to May 2020 but with the lock down, it was prolonged a little.
In the meantime, we were working on the bakery's host city: London, Montreal, Los Angeles? Finally, we chose London and we started preparing the business plans in parallel with Pierre's training.
Why Muswell Hill?
We ruled out Montreal and Los Angeles for family reasons and because of the visas. Despite Brexit, our choice fell on London and Muswell Hill in particular because we knew the city and the area well. We still had time to finalize our entry into the country and obtain pre-settled status.
And why Muswell Hill in particular? Because we had ties there and the area is really pleasant to live in with the family: beautiful schools, local shops, a whole village life in the middle of the greenery. Alexandra Palace, Highgate Woods and Hampstead Heath are on our doorstep.
St Pancras station is 30 minutes away which was important for Florence who works in Paris regularly.
Did you encounter any difficulties?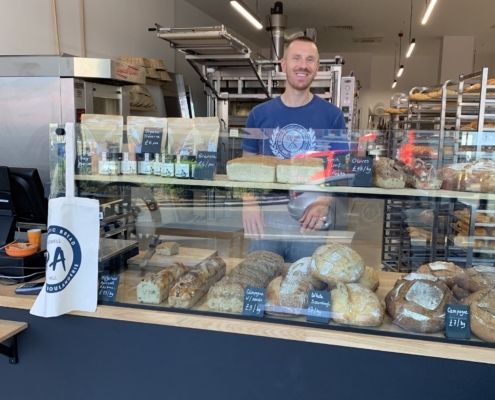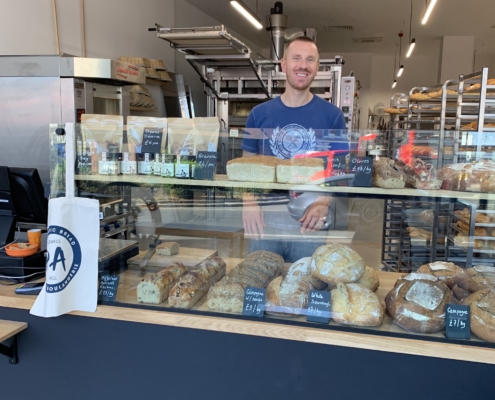 You mean, apart from Brexit, the pandemic and the war in Ukraine?
This project has been an obstacle course from the start. Moving a real professional oven weighing almost 5 tonnes into an old Victorian building is a challenge in itself. Then you have to supply it with electricity and recruit bakers to make it work, which in today's England is not trivial at all.
But we cope thanks to the complementary skills we have as a couple which make us a great team. Alone, it wouldn't have worked the same. Florence always sees the glass half full, me, rather empty, but that allows us to have a fairly reasoned outlook on the situations we have to face.
How has FTC supported you?
We first discussed our needs and expectations with Christophe at length. From the start, we knew that we wanted professional support but we didn't know exactly how, or by whom. Christophe helped us frame our needs.
Then, with Antoine, we worked on the entire upstream phase of our project, which corresponded to the adaptation of our business plan to the London market. His view of consumer habits but also of business in England and the initial consequences of Brexit was extremely valuable to test our assumptions.
It was still our project, however, and we always felt Antoine was more coaching us by getting us to ask ourselves the right questions. We really appreciated that.
When we arrived in England, we conducted the commercial estate research together and Antoine's help was decisive in finding the right premises, in the right place. The market is tough and we had significant constraints: we wanted a premium location, for a reasonable budget, and access to three-phase current. We also had very heavy equipment requiring the laying of a concrete slab, so no basement possible. But we found our premises and Antoine stayed with us until the end of the negotiations.
How important are the premises to your business? (location, rents etc…)
We are a local business so the location is key: we must be in the heart of a high street in a family neighbourhood. At the same time, we require space because we want an open workshop to produce our range of bread in direct contact with our customers.
The mix is ​​not easy. Especially since we could not let ourselves be overburdened by the rent as bread remains an everyday staple and the final price must remain affordable.
Our location today is decisive for the success of our business, and also helps us to recruit bakers who are very difficult to find. With us, they can work in a pleasant and bright environment, in direct contact with customers.
Did you find help within the French community?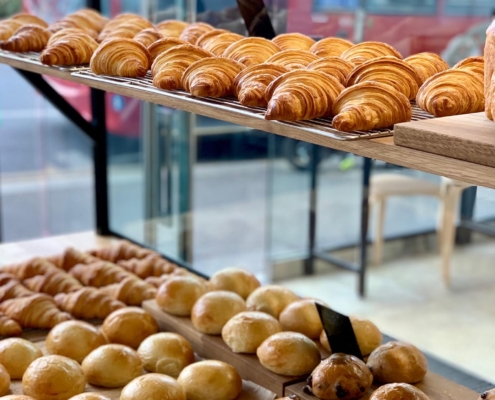 We had the good luck to meet some French people who helped us to develop our project. Today, they are loyal customers – it seems like they are happy to find good French bread in the neighbourhood.
Through FTC, our miller and our equipment supplier, we also met several French bakers already established in England: their help and advice were invaluable.
What is your development strategy today?
We are first and foremost a family business. For now, we're looking at things one step at a time. We will consolidate for a year and then we will see. The idea is to listen to our customers in order to grow. We want to provide them with the services they want without losing sight of our values ​​and our model.
Based on your experience, what advice would you give to other entrepreneurs wishing to establish themselves in London? 
The same as those that would be given to any entrepreneur: research your project well and surround yourself with the right people. Listen while remaining true to yourself, too. It takes a lot of resilience to get through the ups and downs. London is a very unpredictable city, everything changes a lot, very quickly, for better or for worse, so you have to be very agile and above all not to imagine you know it all. Above all, London is a cosmopolitan city whose multi-culturalism is an asset for those who like to venture out a little beyond their comfort zone.
Boulangerie Pierre Alix
222 Muswell Hill Broadway, Muswell Hill, London N10 3SH