This beautiful story begins for us in September 2017 when we met Amandine and Jean-Christophe Puget to help them find the shop that would host their London bakery and cake shop.
We had to move very quickly because the project was behind schedule. It's not easy to find the ideal premises in a hidden, complex and ultra-competitive market, dealing moreover in a different language and in a city that's new to you! It was therefore with French Touch Properties that the project was able to accelerate. Visits followed one another, the options multiplied and a beautiful relationship of trust was formed. After tough negotiations and the resolution of a multitude of difficulties, the ambitious project was crowned with success and Maison Puget  signed the lease on its first premises on the famous Portobello Road, on February the 2nd, 2018. And what a success! After only a few months, their kindness and the high quality of their products made entirely on site to the highest patisserie standards make Maison Puget an essential destination in Notting-Hill and London! 
The journey of this ambitious, dynamic and courageous couple is inspiring. We were delighted to be part of their great adventure and are happy to share their experience in this article.
Let's listen to the story of this couple of young entrepreneurs who were looking to open their first business in London, freshly arrived from France.
Tell us about yourself and what you were doing before coming?
We had a comfortable life in the Vosges. Amandine had left hairdressing to join me in 2009, after the birth of our first child. Our 4 bakeries were very successful in our small village in Charmes. We had more than 40 employees and nearly 600,000 euros in annual turnover. Nothing could happen to us!
Where did you get the idea of ​​setting up a bakery / cake shop in London? Why this project and why in London?
We were looking for a new challenge to take up! We wanted to start from scratch, to leave this rural environment.
We have always travelled a lot and the idea of ​​moving abroad had been in our heads for some time. Our first real motivation was to offer our children the chance to grow up in an open, multicultural environment, ideally English speaking to learn the English language. After eliminating the United States and Canada, the choice of London became obvious!
How did you prepare for this project?
We had initially found some premises in Marylebone but we were badly supported at the time, and the sale fell through. On our side, we had prepared everything, told everyone and already sold our first bakery. We couldn't go back. We moved to London as planned in the summer 2017 but without premises. We found it hard to trust after this extremely disappointing experience. We then searched alone throughout the summer without success. It was long, and we were exhausted morally and physically.
Did you encounter any difficulties? Which ones?
The commercial property market is very secretive and no one really trusted us.
Did you find help within the French community? Who and how?
At the start of September, the children returned to school in Notting Hill, and we were able to talk to French people.
At the same time, we met the French Touch Properties team. They listened to us and immediately supported us. We were on the same wavelength, and we entrusted our project to them.
We can say that 3 people really played a major role in the success of our project; Christophe Chambon of French Touch Properties, who supported us on this project thanks to his knowledge of the market, his determination and his relentless involvement. There was also Claude Haller, project manager, with his experience and professionalism and finally Mr Tai, our solicitor, for his good advice, both professionally and personally. We were lucky to meet these invested and very professional people without whom we would surely not be here!
How did you go about finding your business premises?
We finally identified a number of options with French Touch and started negotiations. One of them was to take over the lease of a beautiful boutique that "La Cave a Fromages" was ready to sell. With Christophe, we validated a number of things, it was our first choice. We liked the premises and the location was perfect –  next to the children's school!
The fact that the former tenants are English but Francophiles probably also made things easier.
Have you encountered any difficulties? Which ones? And how has French Touch Properties supported and helped you?
A long and laborious process followed. Christophe dedicated himself to solving many problems. It was difficult to have the right information, the right contacts…. Christophe and I asked the right questions but we didn't get the right answers!
An example is that of three-phase current. The electrical installation is essential when we have machines like ours because we do everything on site. This is the heart of our project.
All the stages were complicated, from the layout of the room to the arrival of the machines from France and Italy (which incidentally only arrived a week before the opening!), but we held on tight!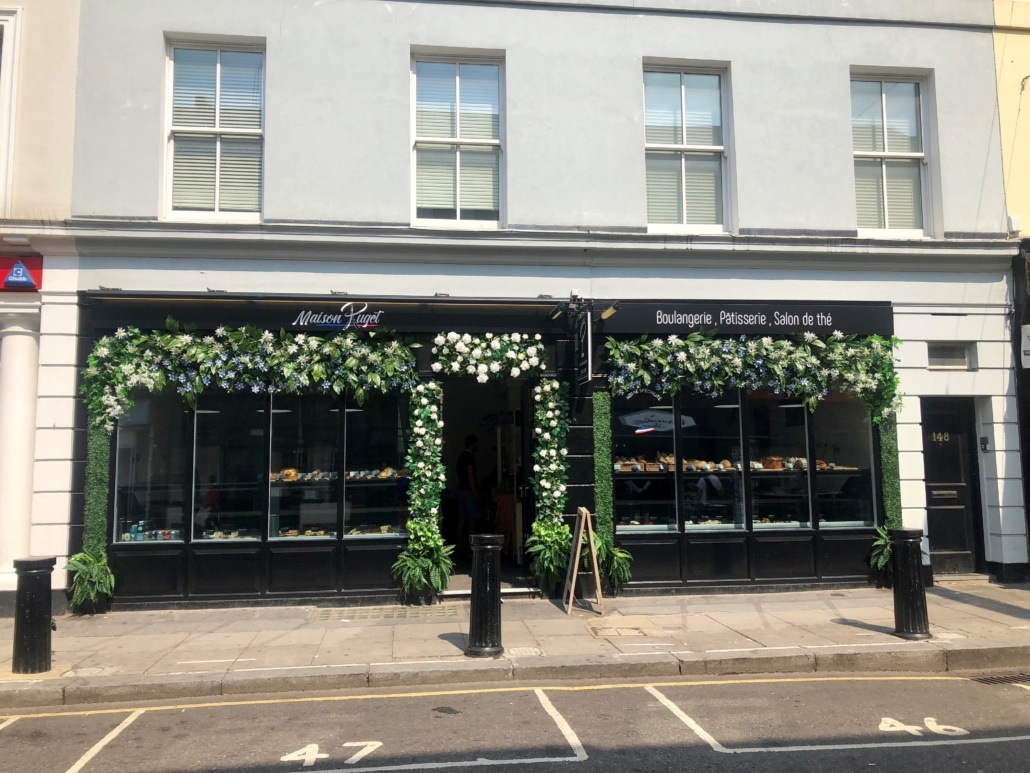 What are the major differences with France when it comes to finding premises?
In France, it's much simpler in general and you don't have to sell yourself like here. London is a place much sought after and the language barrier is also a difficulty not to be underestimated.
In London, we had to start from scratch and we had everything to prove. The most difficult was to put a case together. Mentally and physically, it was hard.
Maybe it is thanks to our children's daily prayers that we finally found somewhere – who knows?!
Why the Notting-Hill district and why Portobello Road?
Notting-Hill was one of the areas French Touch recommended to us and which was part of our target. It's very lucky that we found here and on Portobello Road! We only realized afterwards that there were a lot of French people around us! After our installation, many people from the French community came to see us to encourage us! It is a very close-knit and helpful community!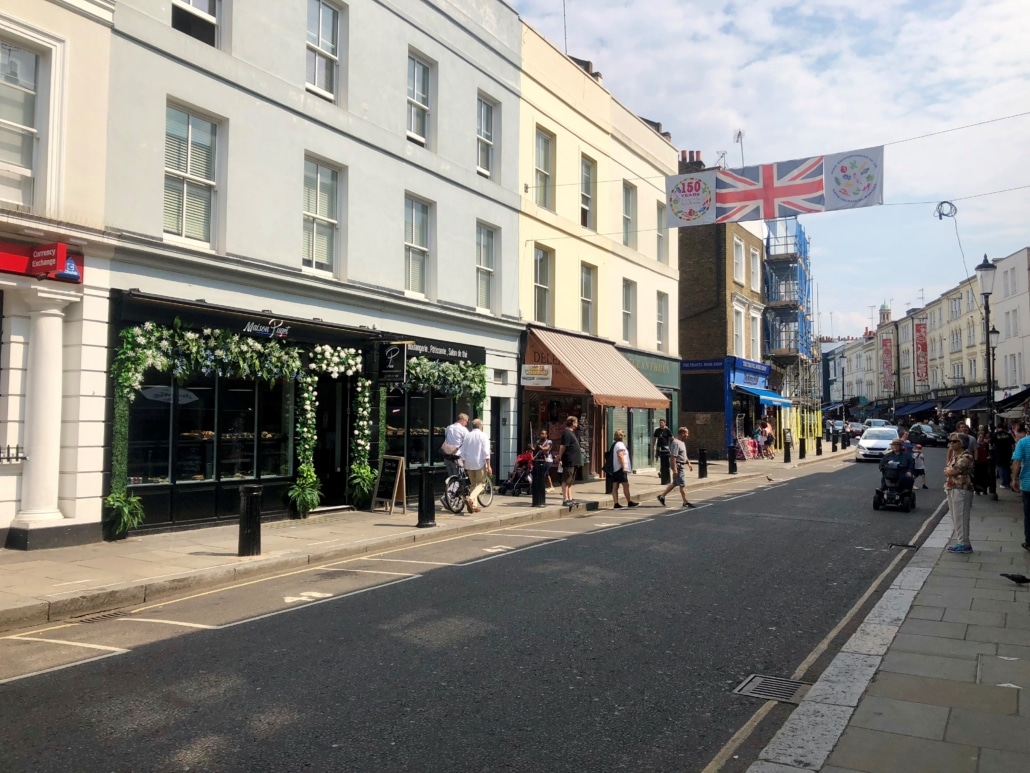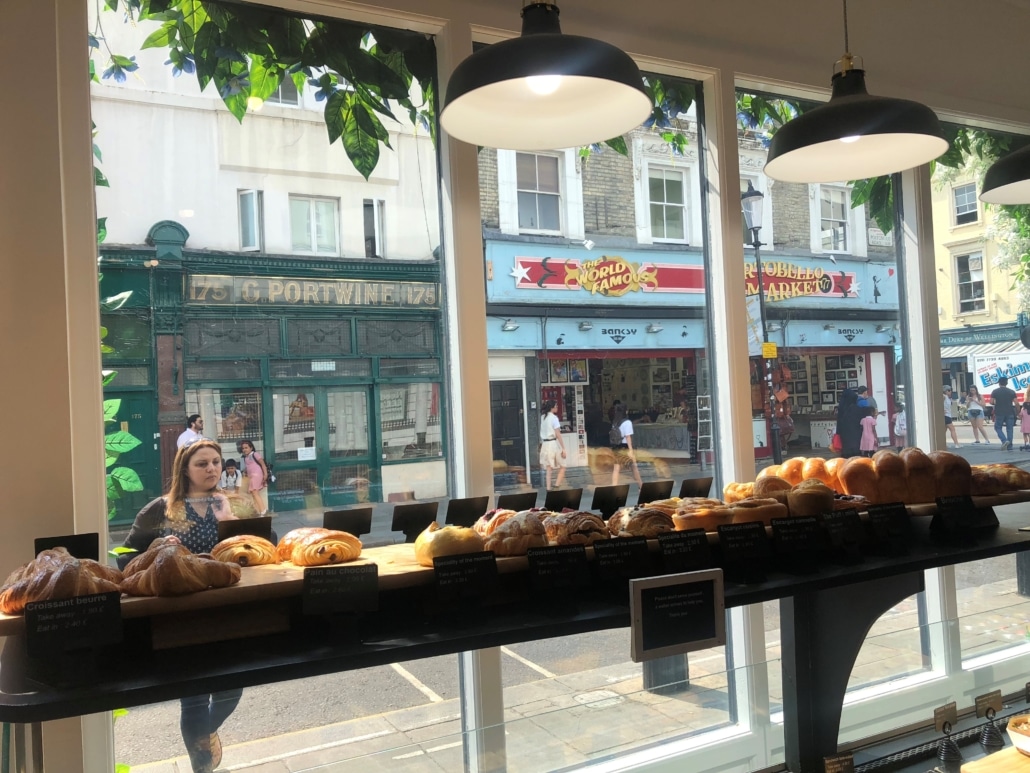 What makes you different from other bakeries / cake shops?  
We offer exclusively natural and fresh products and everything is homemade on site, without additives and chemicals.
One can find the traditional Parisse which, like The Puff, is exclusively sold in London!
Would you like to open a second bakery? In which part of London?
No! Only one in London!
We have already experienced 4 bakery openings before this one and that is enough for us for the moment. In addition, we do not want to risk reducing the quality of our products by opening other stores too quickly, a phenomenon systematically observed with our competitors. We also want to spend more time with our 2 children. Finally, we want to continue traveling.
Then, why not another establishment abroad, in Dubai, Moscow, Israel… but it will come and we are in no hurry!
In your opinion, is it easier or more difficult to start a business in England than in France?
It's easier in England because it's easier to hire. There are also some good basic products, which are even cheaper than in France.
What surprised us here was the importance of decoration!
There are things that are done and others that are not, especially in terms of creating an atmosphere. You need a warm atmosphere! It is very important for customers here! In short, we continue to learn and adapt…
Based on your experience, what advice would you give to other entrepreneurs who would like to set up in London?
Come and see me at the bakery and we'll talk about it together!
And would you recommend French Touch Properties? 
Yes without hesitation!
It is very difficult to identify the right opportunities because the market is opaque and even once you have found an interesting place, it is complicated. You have to sell your business, sell ​​yourself and understand the English legal environment and its uses and customs. FTP's expertise proved to be crucial throughout the project because the issues are numerous: finding suitable properties, understanding the market, dialogue with the banks, estate agents, the council, English institutions, negotiation of lease conditions etc. It is really important to get help and reassurance from trusted professionals.
Maison Puget Bakery & Cafe
148 Portobello Rd, London W11 2DZ